Sales Intelligence Software for Marketing Professionals
For every marketer, one of the biggest challenges is how to make a grand entrance and a lasting, positive first impression on a prospect's mind. This challenge can become more demanding, especially when people are bombarded with promotional messages and offers from everywhere all the time.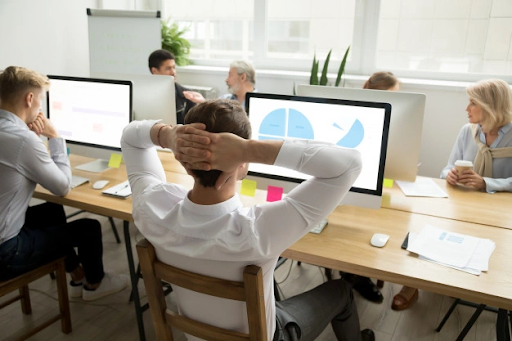 Today, if you want to surprise your prospect with a delicately crafted sales pitch, the typical strategies may easily fail. So you will need to think out of the box. But how, you might ask.
Data can be your best friend. When identifying high-quality leads, building a great relationship with potential buyers, and closing deals, any information about your prospect will come in handy. It will help you create a converting offer.
But isn't it difficult to deal with that much information about multiple prospective leads daily? That is precisely where sales intelligence comes in.
Let's take a closer look at what it is and how it can benefit marketing professionals.
What Is Sales Intelligence? How Can Sales Intelligence Software Benefit Your Business? Three Common Use Cases of Sales Intelligence Software 1. Converting a New Lead with an Advanced Initial Offer 2. Upselling an Ongoing Client with an Extended Offer 3. Reactivating an Existing Client What Is InsightArc? How Does InsightArc Work? Step 1: Sourcing the User Events Step 2: Logging in Step 3: Uploading User Events Step 4: Generating Insights Conclusion
What Is Sales Intelligence?
Sales intelligence (SI) is software that analyzes information about customer behavior. It helps marketing professionals work with extensive arrays of data. Particularly,
Collect data from websites and social networks in real-time and organize it. Identify sales triggers, increased interest, and content consumption patterns. Visualize analysis results.
The dynamic data collected from website cookies, social media, data repositories, common web analytics tools, or even spreadsheets can provide a deeper understanding of consumer behavior at any point in a customer journey. Sales intelligence software can be a gamechanger in this aspect, yielding insights much faster than if you had to do it manually.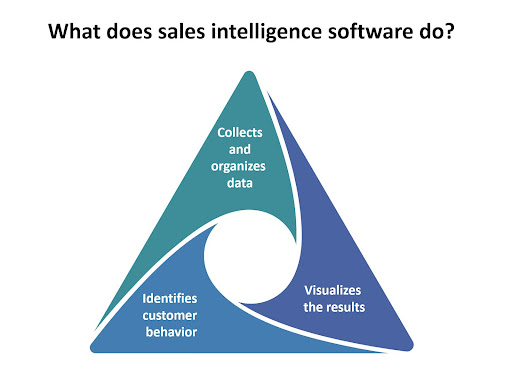 Let's find out some great benefits of using sales intelligence software to organize marketing data for your business.
How Can Sales Intelligence Software Benefit Your Business?
SI software helps businesses visualize their customer journey in greater detail and with minimum manual action. But how can understanding your customers improve your marketing offers? There are several benefits you may gain here:
Aligning with your customer. SI software allows you to align your proposals with customers' requirements and real data about your customer base.

Identifying sales-ready leads. Analytical data from software allows you to identify sales-ready leads and maintain good relationships with them by providing valuable insights about their own clients.

Crafting the perfect pitch. For every sales and marketing professional, finding out the buyer's motivation is crucial. Without it, they cannot effectively empathize with leads in consequence. Sales intelligence can draw valuable insights into buyers' motivation and needs to help you craft a good pitch.

Knowing the right moment. Every salesperson can relate to a situation when a prospect chooses another contractor with a more relevant or interesting offer. With SI-obtained data, you can identify the most relevant patterns and tailor your offer to provide the most impact on a client's business.

Insights on customer engagement. Sales intelligence software analyzes huge volumes of data to understand customers' behavior and engagement with various marketing contents. It will help you make necessary adjustments in your campaign for the most optimal performance and return on investment.

Data-driven decision and forecast. Data-driven sales forecasts will almost always be more accurate than assumptions. An SI platform can go through years of sales data from the industry and forecast your sales volume for the intended period, taking many factors into consideration within its predictions. These data-driven revenue forecasts may be game-changing.
So, now that we have covered the benefits of using sales intelligence, let's take a look at how marketing specialists, agencies, and funnel builders can use it to fuel an online business.
Three Common Use Cases of Sales Intelligence Software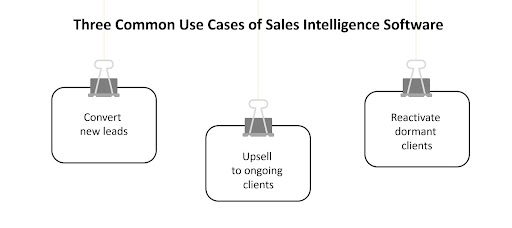 SI can always pave the way for you, taking into account almost any type of client. There are different strategies to follow depending on the client, but sales strategies that work for an existing client may not be convincing enough to convert a new lead.
So here is how you can use sales intelligence to customize your marketing offers for different stages of the customer journey:
1. Converting a New Lead with an Advanced Initial Offer
At first, your strategy should aim at acquiring new clients by converting prospective leads. With sales intelligence, any marketing agency or consultant can make a more targeted data-driven offer to stand out among competitors.
There are a few steps to perform once you have a well-established SI software:
Accessing the data. Make sure you have as much data as possible to perform analytics. Ask your prospects to give you limited access to their web analytics tools at a level acceptable to them. This data will help you understand the state of their current funnel.
Analyzing. Once you have data in your hands, use sales intelligence to analyze it and generate insights. Identify issues holding the client's sales back or improvements that may bring them better results.
Giving a solution. Based on the previous stage, improve your offer by adding specific solutions you may implement to improve your prospect's results in profits. A sales intelligence tool will also help you visualize customer flows and detect issues.
Just as converting a new lead, it is also important to upsell ongoing client portfolios because they already have a trusting relationship with your business. Here's how:
2. Upselling an Ongoing Client with an Extended Offer
Upselling and setting repetitive sales to ongoing client portfolios can stabilize your revenue growth and make your business fundamentally stronger. Often, your new clients may not only order a one-time service from you but also subscribe for a long-time supporting service such as website promotion and content audit and improvement. For your business, it will secure good profitability in the long term.
With a couple of steps, you can upsell ongoing client portfolios using your SI tools, which are:
Acquiring data. Similar to the first case, you will need to begin with gaining access to the client's data and web analytics. If it's your existing client, you'll probably already have this access on a deeper level.
Anticipating problem areas. Use your sales intelligence to ideate not only current improvements but also areas where your ongoing services may be required, e.g., checking your client's web funnels and improving their website based on their user behavior and red flags detected over time.
Offering long-term services. Make your offer! Demonstrate the benefit your client may gain by subscribing for long-term maintenance and improvements.
What about existing clients that have been dormant for a while?
3. Reactivating an Existing Client
There are clients who previously used your service; however, they discontinued later for some reason. It is always a good idea to keep an eye on your former clients because you already have an idea about their operations. Similarly, they know about yours.
With a sales intelligence tool, you can reactivate existing clients by solving their new problems. Here is how:
Monitoring analytics. You will need to monitor the analytic data of your previous clients to find potential problems that can be solved with your services or product. At the same time, you may offer some new services that they did not get previously.
Offering improvement. Sales intelligence tools will give you insights on how your old clients may improve their overall business performance in different areas such as website or user experience. These data-based insights will also make your offer more convincing for the clients.
Now that we know how you can propel your business with a sales intelligence tool, the next question is which one to use.
What Is Insightarc?
InsightArc is a sophisticated SI tool for analyzing and visualizing your clients' customer journey. It helps identify bottlenecks, repetitive actions, ways around, drop-off points, and possible shortcuts and improvements.
How Does InsightArc Work?
Generating useful insights and mitigating analytical bottlenecks within your client's sales process with InsightArc requires little time and effort.
It's designed to:
analyze your client's flows on a deep level and bring you valuable insights;
allow your account executives to initiate more deals and close more contracts based on problem-driven offers;
improve your own buyer's journey flow and reduce churn.
The workflow of Insightarc comprises of a set of four well-defined steps, which are:
Step 1: Sourcing the User Events
At first, you will need to get a source of user events that you can analyze in the following steps. InsightArc can utilize data obtained from a number of sources such as web analytics, backend software logs, CRM, or even excel sheets from offline events.
You can acquire and upload the data directly from the client's web analytics tool, such as Google Analytics or HotJar. You can do it manually with xls file or using API to stream data directly from the client's database/GA to the Insightarc software.
As a digital marketing agency operating within the web analysis domain, you may regularly obtain clients' analytics data as part of a free audit.
Step 2: Logging in
The next step after obtaining the client's data is to log in to your personal space within the sales intelligence tool. Insightarc lets you use web browsers to access your personal space where you can later find all the visuals and customized reports.
Step 3: Uploading User Events
Moving on, you will have to upload the user events on Insightarc's portal. It supports a wide range of data sources such as web analytics, CRM, or backend logs. Moreover, you can also upload manually obtained CSV/XLS files or link an external data warehouse via API.
Step 4: Generating Insights
The final step is to generate insights from the raw data you have given as inputs. In this phase, Insightarc will help you in several ways, such as:
Identifying actionable insights. Through the aggregation of user events, it will automatically generate actual journey maps with actionable insights for your customer.

Operational issues or customer pitfalls. Insightarc can easily track the operational issues that customers might face regularly. Additionally, the tool will customize the insights accordingly.

Gaining visibility. InsightArc will give you complete and detailed visibility on how customers interact with the product. As your ultimate goal is to solve problems for customers by streamlining the operational process, this visibility is highly valuable.

Finding out problem areas. One of the most important parts of the insights is the potential problem areas and abnormal activities within the customer's business process. InsightArc will make it easy for you to identify the issues and present them to customers with great visuals.
Insightarc builds customer journeys by integrating online data analytics with offline actions like delivery services and call center operations.
Conclusion
If you want to get the most out of online and offline data about customer behavior and their journey with a product, you need an SI platform to analyze this information and produce relevant insight.
Sales intelligence for digital marketing agencies gives you actionable insights that can help you drive better results for your customers, increase your sales, and attract more long-term contracts.
You can use it to make a good impression on a prospect, close a deal, upsell your services, or shake up dormant clients.
So if you are looking to modernize your sales team with advanced levels of data analysis, try Insightarc's free trial and feel the impact!